Choquequirao is as impressive as Machu Picchu? This ancient Inca city is known as the younger sister of the Wonder of the World. Some tourists who made the 2-day hike to visit it even say that Choquequirao is better. It is true? Learn the truth about this new archaeological site in Cusco, Peru. CHOQUEQUIRAO TO MACHU PICCHU INFORMATION.
What is Choquequirao really?
Choquequirao is an Inca urban center with features common to others in Cusco, especially Machu Picchu.
The similarity with Machu Picchu is largely due to the similarity of the geography of the place where the enclosure was built.
According to various investigations, Choquequirao would also be a fortress and a ceremonial center. The truth is that due to its hidden location in a high and distant mountain; It was a strategic point for various purposes.
Over the years, like Machu Picchu, Choquequirao was abandoned and covered by the jungle until its re-discovery.
Unlike Machu Picchu, there is no train or bus to get to Choquequirao. The only way is to do it on foot through 32 kilometers of incredible landscapes.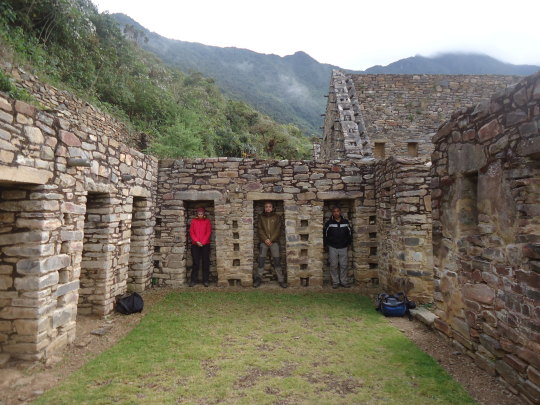 Day 1: Cusco – Cachora – Playa Rosalina – Santa Rosa
We will pick up you from your Hotel at 5.00 am in our private transport and drive towards Cachora (4 hours approx.) the starting point of the trek where we meet our horsemen and horses. Then we start our hike climbing for 2 hours approx. to Capuliyoc where may we enjoy beautiful views of the surrounding mountains. We continue after Capuliyoc, descending for two more hours to Chiquisca and our delicious lunch made by our chef. After lunch we keep going down the mountain until we reach Playa Rosalina campsite. After crossing the Apurimac River we start the climb to Santa Rosa, zigzagging up a steep slope (2 hours approx.) where those who wish may try Cambray the "typical drink" here, made locally from a sugar cane extract.
Day 2: Santa Rosa – Archaeological Site of Choquequirao
We will wake up for breakfast and so we can have an early departure from Santa Rosa. Afterwards, we continue our hike slowly climbing for 2 hours approx to Marampata.
Then we continue to enjoy this day we will dedicate ourselves exclusively to enjoying all the magic of history and splendor of Choquequirao, we will enjoy a complete guided tour of the Choquequirao complex, including a visit to the high parts (Hanan), and the lower parts (Urin). There will be time to know explore the site with its 8 sectors, its barns, houses and temples. You will see the three stages of the excavation of this late Inca-town: the excavated buildings and constructions; the ruins currently in the process of excavation and finally the unexplored areas and terraces with the secrets they may hold of this last refuge of the dying Inca empire. And throughout the day we will keep an eye to the sky for a glimpse of the majestic flight of condors. With luck on the high steep slopes of Chocuequirao, they can pass very close to you. We will enjoy our lunch and then we will return to our Maranpata campsite for rest.
Day 3: Choquequirao – Playa Rosalina – Chiquisca
This morning we enjoy our delicious breakfast and start our 1 ½ hour walk back towards Maranpata and a descent to Playa Rosalina for lunch and a some relaxation time. After lunch we climb for 2 hours to Chiquisca campsite where dinner will be waiting for us.
In Chiquisca you can have a shower and eat some exotic local fruits from this area.
Day 4: Chiquiska – Cachora – Cusco
We leave camp after breakfast to start the two to three hours climb to Abra Capuliyoc. We will leave Chiquisca campsite early because the sun can be very strong after 10 am, so we plan to to arrive at Capuliyoc by then. Then it is an easy two hours more back to Cachora where we have our lunch. In the afternoon, we met our private transport which will be waiting to take us back to Cusco. Estimated arrival time around 5.00pm.